Planning a Point-to-Point Paddleboard Route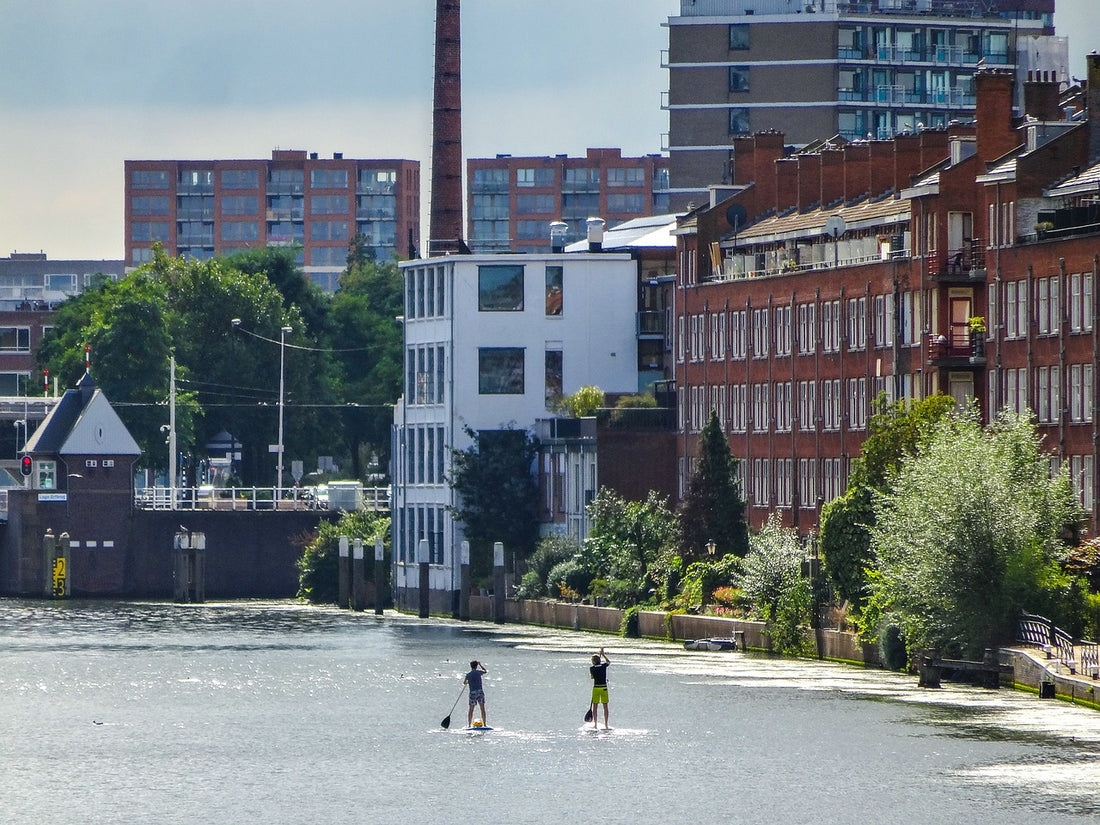 In urban paddling, one-way routes are the way to go. There's that lovely sense of continuous progress. Just propelling forward and covering more ground. The beauty lies in the freedom to explore without retracing our steps. We can be more spontaneous and carefree. Are you ready for an urban adventure? Here are our pointers for planning point-to-point routes:
Location of interest: Spoiled for Choice
With so many captivating locations to explore, we have the luxury of choice. Iconic landmarks, architectural marvels, cultural and historical spots await our discovery. Whether we opt for a scenic green route or immerse ourselves in a vibrant neighbourhood with ever-evolving canvas of street art, the adventure is ours to embrace. Dive in and savour your preferred flavour of urban exploration.
Waterway Accessibility: Plan with Prudence
Before embarking on our adventure, let's do our homework. Research the accessibility of the waterway, check for necessary permits, and find convenient entry, egress, and exit points. Responsibility is key, as we choose a stretch of waterway that matches our skill level. Our secret weapon is British Canoeing's PaddlePoints platform. It's a brilliant free tool for discovering and mapping paddle trails. Sharing is caring, especially when it comes to epic SUP routes.
Green Commute: Embrace Sustainability
Encouraging a green approach in our paddle outings is part of our manifesto. Choose eco-friendly transportation options to reach the water. In urban areas, public transportation is our ally, easily whisking us to our launch point and from our exit point. We can even walk part of the way. Public rental bikes are on our radar, but we are yet to try them. Anything to minimise our carbon footprint! It feels great to do our part. To help in navigating the urban jungle, the Citymapper app is our favourite resource. It integrates data for all modes of urban transport and supplies real-time information in supported cities.
Mastering Tides: Timing is Everything
Incorporate tide times and information into the route planning. Unless we're in the mood for a bit of a workout, of course. It usually makes for a more comfortable journey to travel with the flow of the tide. Tide and time wait for no one.
Travel Light: Essentials Only
In urban areas, civilisation is never far away. Wear paddle clothing, share a pump, and bring one large and one small drybag. With practice, items like the pump, SUP carry bag, repair kit, and extra clothing fit neatly into the larger bag. The smaller drybag holds the essentials within easy reach: water bottle, snacks, debit card, and sunscreen. Securely attach these bags to the board for peace of mind. Don't forget to keep your mobile phone in a waterproof pouch. And while we love paddling barefoot, having a pair of shoes on the board is a must. Unfortunately, broken glass can be found everywhere, especially during portaging.
Timings: Plan for Success
Consider the weather conditions, daylight hours, and estimated duration of the route. We prefer a leisurely pace to enjoy the surroundings. Allow enough time to comfortably reach your endpoint before sunset or change in weather. Mind busy spots and peak times. Patience is a virtue for us paddleboarders.
Life is too short to paddle in circles. Let's venture forth and embrace the thrill of urban one-way paddles. Uncharted territory and new surroundings await. Adventure time!
Your Email Address Will Not Be Published. Required Fields Are Marked *